4 min read
Finally! Manage Exchange mailbox permissions with Active Directory groups
I've tried many ways to assign permissions for an Active Directory group on a Exchange (2010) mailbox, but it's simply not possible.
Fortunately nothing's impossible with PowerShell.
The following script can handle this issue by:
Creating an Active Directory permission groups linked to the service mailbox for each permission type on each mailbox on the Exchange server filtered by Active Directory users and groups holding not service mailbox users.
Synchronize members for each mailbox permission type.
Delete unused permission groups.
Auditing events and error with PowerShell Profile.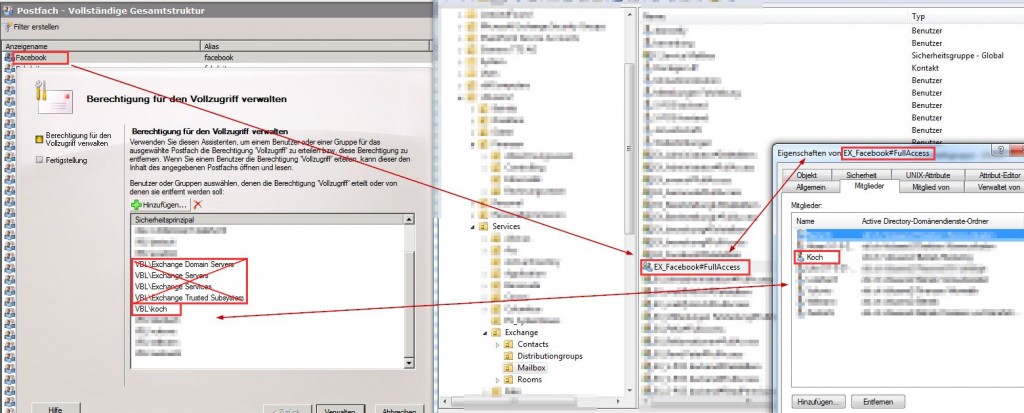 <#


$Metadata = @{


	Title = "Synchronize Service Mailbox Access Groups"


	Filename = "Sync-ServiceMailboxAccessGroups.ps1"


	Description = ""


	Tags = "powershell, activedirectory, exchange, synchronization, access, mailbox, groups, permissions"


	Project = ""


	Author = "Janik von Rotz"


	AuthorContact = "https://janikvonrotz.ch"


	CreateDate = "2014-01-27"


	LastEditDate = "2014-01-27"


	Url = ""


	Version = "0.0.0"


	License = @'


This work is licensed under the Creative Commons Attribution-ShareAlike 3.0 Switzerland License.


To view a copy of this license, visit https://creativecommons.org/licenses/by-sa/3.0/ch/ or


send a letter to Creative Commons, 444 Castro Street, Suite 900, Mountain View, California, 94041, USA.


'@


}


#>



Import-Module ActiveDirectory



# Connect Exchange Server


$ExchangeServer = (Get-RemoteConnection ex1).Name
$PSSession = New-PSSession -ConfigurationName Microsoft.Exchange -ConnectionUri 

"https://$ExchangeServer/PowerShell/"

 -Authentication Kerberos
Import-PSSession $PSSession

$Config = @{
    OU = 

"OU=Mailbox,OU=Exchange,OU=Services,OU=vblusers2,DC=vbl,DC=ch"



    ADGroupFilter = @{
        NamePrefix = 

"EX_"


        NameInfix = 

""


        NameSuffix = 

""


    }

    ADGroup = @{
        NamePrefix = 

"EX_"


        PermissionSeperator = 

"#"


    }

    ADGroupMailboxReferenceAttribute = 

"extensionAttribute1"



    MailBoxFilter = @{
        RecipientTypeDetails = 

"UserMailbox"


        ADGroupsAndUsers = 

"F_Mitarbeiter"

,

"F_Archivierte Benutzer"


        ExcludeDisplayName = 

"FederatedEmail.4c1f4d8b-8179-4148-93bf-00a95fa1e042"


    }

} | %{New-Object PSObject -Property $_}



# get domain name


$Domain = 

"

$(((Get-ADDomain).Name).toupper())

"





# get ad user objects


$Config.MailBoxFilter.ADGroupsAndUsers = $Config.MailBoxFilter.ADGroupsAndUsers | %{
    Get-ADObject -Filter {(Name 

-eq

 $_) 

-or

 (ObjectGUID 

-eq

 $_)} | %{
        

if

($_.ObjectClass 

-eq

 

"user"

){$_.DistinguishedName
        }

elseif

($_.ObjectClass 

-eq

 

"group"

){ Get-ADGroupMember $_.DistinguishedName -Recursive}
    } | Get-ADUser -Properties Mail
}



# create mail list to filter mailboxes


$Config.MailboxFilter.AllowedMails = $Config.MailBoxFilter.ADGroupsAndUsers | %{

"

$($_.Mail)

"

}



# create SamAccountName list to filter mailbox permissions


$Config.ADGroupFilter.AllowedUsers = $Config.MailboxFilter.ADGroupsAndUsers | %{

"

$($Domain + $_.SamAccountName)

"

}



# get exisiting mailbox permission ad groups


$ADGroups = Get-ADGroup -Filter * -SearchBase $Config.OU -Properties $Config.ADGroupMailboxReferenceAttribute | where{$_.Name.StartsWith($Config.ADGroupFilter.NamePrefix) 

-and

 $_.Name.Contains($Config.ADGroupFilter.NameInfix) 

-and

 $_.Name.EndsWith($Config.ADGroupFilter.NameSuffix)}



# sync mailbox access groups for each mailbox


$Mailboxes = Get-Mailbox | where{$_.RecipientTypeDetails 

-eq

 $Config.MailBoxFilter.RecipientTypeDetails 

-and

 $Config.MailboxFilter.AllowedMails 

-notcontains

 $_.PrimarySmtpAddress.tolower() 

-and

 $Config.MailBoxFilter.ExcludeDisplayName 

-notcontains

 $_.DisplayName}

$RequiredADGroups = $Mailboxes | %{

    

# set variables


    $ADPermissionGroups = @()
    $Mailbox = $_

    Write-Host 

"Parsing permissions on mailbox: 

$($_.

Alias

)

"



    

# get existing permission groups


    $ADPermissionGroups = $ADGroups | where{(iex 

"

`$

_.

$($Config.ADGroupMailboxReferenceAttribute)

"

) 

-eq

 $Mailbox.Guid}
    $ADExistingPermissionGroupTypes = $ADPermissionGroups| where{$_} | %{$_.Name.split(

"#"

)[1]}

    

# get existing and allowed mailbox permissions


    $MailboxPermissions = $Mailbox | Get-MailboxPermission | where{$Config.ADGroupFilter.AllowedUsers 

-contains

 $_.User}

    

# create an ad group foreach permissiontype that is required


    $NewADPermissionGroupTypes = $MailboxPermissions | %{

"

$($_.AccessRights)

"

.split(

", "

) | where{$_} | %{$_} | %{$_ | where{$ADExistingPermissionGroupTypes 

-notcontains

 $_}}}
    $NewADPermissionGroupTypes | Group | %{

        

# create ad group name foreach permission type


        $Name = $config.ADGroup.NamePrefix + $Mailbox.Displayname + $Config.ADGroup.PermissionSeperator + $_.Name

        Write-PPEventLog -Message 

"Add service mailbox access group: $Name"

 -Source 

"Synchronize Service Mailbox Access Groups"

 -WriteMessage
        New-ADGroup -Name $Name -SamAccountName $Name -GroupCategory Security -GroupScope Global -DisplayName $Name  -Path $Config.OU -Description 

"Exchange Access Group for: 

$($Mailbox.Displayname)

"


        Get-ADGroup $Name

    } | %{

        

# set the reference from the adgroup to the mailbox


        iex 

"

`$

_.

$($Config.ADGroupMailboxReferenceAttribute)

 = 

`"

$($Mailbox.Guid)

`"

"


        Set-ADGroup -Instance $_
        $ADGroup = $_

        

# add existing members to the permission group


        $MailboxPermissions | where{$_.AccessRights 

-match

 $ADGroup.Name.split(

"#"

)[1]} | %{
            Add-ADGroupMember -Identity $ADGroup -Members ($_.User 

-replace

 

"$Domain"

,

""

)
        }

        

# output ad permission groups


        $_
    }

    

# check members foreach permission group


    $ADPermissionGroups | where{$_} | %{

        

# get permission type


        $Permission = $_.Name.split(

"#"

)[1]

        

# get existin ad user groups


        $ADPermissionGroupUsers = $_ | Get-ADGroupMember -Recursive | select @{L=

"User"

;E={$($Domain + $_.SamAccountName)}}
        $MailboxUsers =  $MailboxPermissions | where{$_.AccessRights 

-match

 $Permission} | select user

        

# compare these groups and update members


        

if

($ADPermissionGroupUsers){
            $PermissionDiff = Compare-Object -ReferenceObject $ADPermissionGroupUsers -DifferenceObject $MailboxUsers -Property User

            

# add member


            $PermissionDiff | where{$_.SideIndicator 

-eq

 

"<="

} | %{

                Write-PPEventLog -Message 

"Add mailbox permission: $Permission for user: 

$($_.User)

 on mailbox: 

$($Mailbox.

Alias

)

"

 -Source 

"Synchronize Service Mailbox Access Groups"

 -WriteMessage
                Add-MailboxPermission -Identity $Mailbox.

Alias

 -User $_.User -AccessRights $Permission
            }

            

# remove member


            $PermissionDiff | where{$_.SideIndicator 

-eq

 

"=>"

} | %{

                Write-PPEventLog -Message 

"Remove mailbox permission: $Permission for user: 

$($_.User)

 on mailbox: 

$($Mailbox.

Alias

)

"

 -Source 

"Synchronize Service Mailbox Access Groups"

 -WriteMessage
                Remove-MailboxPermission -Identity $Mailbox.

Alias

 -User $_.User -AccessRights $Permission -Confirm

:

$false
            }
        }

        

#output ad permission group to delete old ad permission groups


        $_
    }
}

$ADGroups | where{$RequiredADGroups 

-notcontains

 $_} | %{

    Write-PPEventLog -Message 

"Remove service mailbox access group: $Name"

 -Source 

"Synchronize Service Mailbox Access Groups"

 -WriteMessage
    Remove-ADGroup -Identity $_ -Confirm

:

$false
}

Remove-PSSession $PSSession
Write-PPErrorEventLog -Source 

"Synchronize Service Mailbox Access Groups"

 -ClearErrorVariable
Latest version of this script: https://gist.github.com/8653473
Requirements
To run this script properly and use commands as Write-PPEventLog I recommend you to install my project PowerShell Profile.

Categories: Microsoft infrastructure
Tags: activedirectory , exchange , mailbox , permission , synchronize
Improve this page
Show statistic for this page